Take part in KEY+
KEY+ is for young people aged 11 to 25.
It supports you and your friends to use your voices and lead projects that matter to you.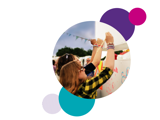 What is KEY+?
KEY+ is a three stage programme that supports you to gain new experiences and build your skills and confidence. It empowers you to realise that you can achieve anything you put your mind towards. 
At each stage, KEY+ challenges you to form a group and progress through a five-step process as you think, plan (including a budget), pitch (dragon den style), do and review your own project.
Projects can be anything you dream up as long as they're safe and support you to develop skills. At Stage 3, you'll also be challenged to either explore enterprise or tackle a social issue in your community.
Find out all about KEY+ and hear from Sophie, Obi and Jess on why you should take part in this short video!
Why take part in KEY+?
Taking part in KEY+ provides you with the opportunity to:
Discover your passions, talents and realise what you're capable of

Use your voice and energy to lead projects that matter to you

Develop important skills for the future in a fun way

Build and strengthen friendships and connections

Be inspired to explore enterprise or tackle social issues in your community
Success Stories
Every year, young people achieve great things through KEY+. Here's just a few stories showcasing the impact of our unique programme...