Corporate Partnerships
We have a range of opportunities covering everything from flexible volunteering, charity of the year partnerships to bespoke options that address your CSR needs.
We would love to find out more about your organisation and goals and explore how The Key can help.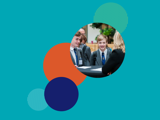 Why support The Key
Partnering with The Key provides you with...
Solutions to identified gaps in your business' Corporate Social Responsibility (CSR) activity

Opportunities for employees to get involved and see the direct impact of your support

Boosted staff wellbeing to create a happier, better prepared workforce

Connection with your local community, resulting in greater brand loyalty

Tailored packages to meet your giving needs such as ring fencing your support to your desired geographic location offering direct impact into the heart of your community
United Nation's Sustainable Development Goals
The Key and the work we deliver supports and adds value to the collective work towards achieving the following UN Sustainable Development Goals and, by partnering with The Key, you too can contribute.
How you can partner with us
We love to work with you to come up with a bespoke solution to fit your needs. Here's just a few examples of how a partnership could look...
Invest in young people's ideas 
£2,500
empowers 25 young people facing challenging circumstances. 


Develop your team with KEY+

£10,000
empowers 100 young people facing challenging circumstances.


Get in touch
We achieve more together than by acting alone. We're keen to explore partnerships that can provide even more young people with the opportunities they need.
Speak to us to explore how we can meet your needs whilst empowering young people in need together.
Success Stories
Every year, young people achieve great things through KEY+. Here's just a few stories showcasing the impact of our unique programme...